Please Note: Secwin Online Server requires Secwin 4.30 or later and NetTalk
Introduction
Secwin Online Server provides immediate access to temporary or permanent product activation codes for any product which has the Secwin online client feature enabled. Activation codes can be blocked for certain clients, products or datasets, allowing the supplier full control over product sales and distribution, but giving prospective or new clients immediate access to the product. Activation codes can be issued as temporary or permanent product codes.
Features
Register a customer online and email product activation code
Creates Secwin Activation codes for any product
Register customers before issuing activations codes from your application or directly from the web using SOS
Products activations codes can automatically be emailed to customers or their dealers/resellers
Product activation codes requests can automatically be assigned a serial number
Datasets, companies, serial numbers and products can be blacklisted, preventing any further issues of activation codes
Limit the number of registration codes issued to one customer by unique identifier, by serial number or by both unique identifier and serial number
Runs on Windows 98se and higher Windows operating systems
Can be installed as a service
Maintain and update SOS via a web user interface
Screenshot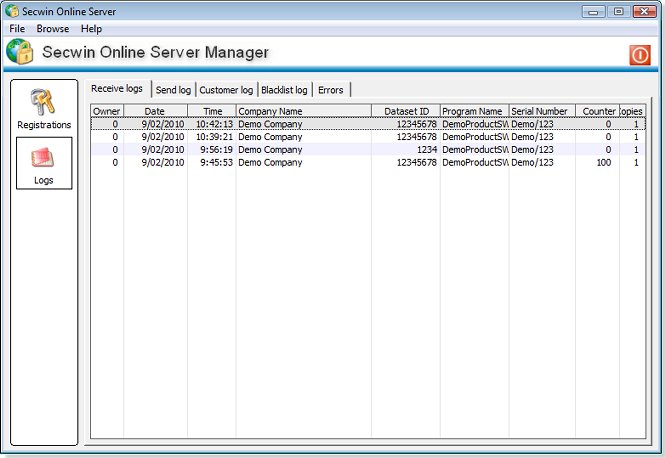 Why Secwin Online Server ?
Secwin Online Server allows you control over your products sales and the issuing of activation codes, without the concern of missing or inconveniencing the customer. By adding the client feature to any product (written in Clarion, with Secwin), the customer can immediately access some or all the features of the product for an evaluation period.
Compatible With
| | |
| --- | --- |
| Clarion 6 | No |
| Clarion 7 | No |
| Clarion 8 | Yes |
| Clarion 9 | Yes |
| Clarion 10 | Yes |
| Clarion Templates | Yes |
| ABC Templates | Yes |
| Local Mode | Yes |
| DLL Mode | Yes |
| Multi DLL | Yes |
Documentation & Support
Cost
The price of Secwin Online Server is

$247

. It is available for purchase from ClarionShop.
Hosting Subscription:
A Secwin Online Server is hosted by CapeSoft on our server in the USA.
Developers who want access to SOS, but do not want to host SOS themselves, can subscribe to our hosted SOS for

$69

per annum which you can purchase from ClarionShop.
The annual subscription will give the developer a login and password for the web interface, which will allow you full access to all your products, registrations and related data. In addition, new registrations and daily backups of data can be emailed to you. www.clarionshop.com
For other payment options please contact us
here
Refund Policy
CapeSoft believes that if you aren't satisfied with our products, we would like them back - and we will refund you the money. This allows you to purchase our products with confidence. You can read our full refund policy
here
.