Introduction
CapeSoft xFiles is a collection of classes for hand-coders. 
It provides the following functionality:
Reading and writing XML files directly to and from Groups and Queues and Files (TPS, or any other backend).

Fast

reading and writing of XML files to and from Clarion data structure with no significant overhead for the XML - files are read from disk and written to disk at the speed at which a binary file can be read or written.
Support for creating RSS feeds
Automatic encoding of binary data, BLOB and MEMOs in XML. Automatic addition of CDATA tags when needed.
XML support for nested queues and groups within queues, groups and files (Clarion 6 and above)
XML support for fields with multiple dimension (Clarion 6 and above)
Create XML in memory from queues, groups and files, or populate a queue, group or file from a string in memory that contains the XML.
Use xFilesXML to load and save all program settings in on go using the Load and Save methods.
xFileSettings class replaces storing settings in INI files with XML files, using Get and Put and the same syntax as is used for INI files.
Reading and Writing binary (and text) files to and from disk. Includes dynamic memory allocation for loading any size file into memory (as a string).
Supports automatic ZIP and UNZIP compression when reading and writing files (including XML files).
Very high precision timers using the xFileFastTimer class. Uses 64bit precision for accurate, high resolutions timers.
xFilesExplode supports decompressing files compressed with the proprietary Implode algorithm.
We wrote xFiles a number of years ago, and it provided fast XML functionality, which we used in a number of our products (
CapeSoft Email Server
). It worked so well, that we decided others would benefit from using it too.
Note
: xFiles is for hand coders. This means you will need to call the xFiles methods within your code, for example self.Init(), self.Load() and self.Save(). This accessory is not purely template driven and requires hand-coding to operate.
One of the best things about xFiles is that is it really, really
fast
(yeah, really, you will be surprised just how
fast
it is!). This means that it outperforms other XML toolkits (for example the Microsoft SAX toolkit).
Features
Writes a Queue or Group to an XML file simply by calling the self.Save() method.
Reads an XML file into a data structure (Queue or Group) by calling the self.Load() method.
Reads and Writes XML files

fast

and reliably.
No knowledge of XML is required.
The xFileXML class also allows application settings (for example global application settings stored in a global group) to be stored in XML files.
Alternatively the xFileSetting class can be used to replace settings that you would previously have stored in INI files. This class uses XML files for ultra fast, reliable storage of settings.
Thread safe.
Includes a number of extra utility classes for providing high precision timers, API runtime DLL linking, and basic zip compression.
xFiles is Clarion Source Code. This means that your application is not dependent on external DLLs or Microsoft toolkits. The xFiles classes are compiled into your application and they run on all flavours of the Windows 32-bit Operating Systems.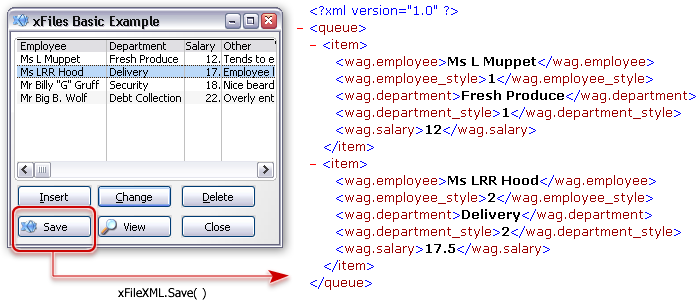 Compatible With
| | |
| --- | --- |
| Clarion 8 | Yes |
| Clarion 9 / 9.1 | Yes |
| Clarion 10 | Yes |
| Clarion 11/ 11.1 | Yes |
| Clarion Templates | Yes |
| ABC Templates | Yes |
| AnyScreen | Yes |
| Hand-Coded Projects | Yes |
| Local Mode | Yes |
| DLL Mode | Yes |
| Multi DLL | Yes |
Documentation & Support
Cost
The price of xFiles is
$129
. It is available for purchase from
ClarionShop
.
For other payment options please contact us
here
Refund Policy
CapeSoft believes that if you aren't satisfied with our products, we would like them back - and we will refund you the money. This allows you to purchase our products with confidence. You can read our full refund policy
here
.