Introduction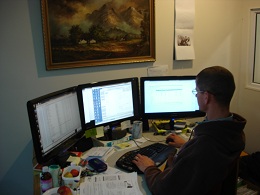 We are a small company, and each employee is an intrinsic member of the team. We are continually on the lookout for quality people. This document covers some of the basic information you will need to know if you are exploring the idea of working with us.

What We Do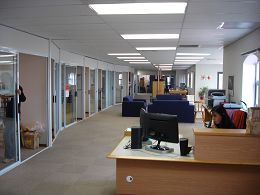 We are a software, and electronics, development company. To this end we;
Write Windows desktop software
Write web application software
Write embedded software on Linux
Integrate Linux based Single-Board-Computers into custom hardware devices
Design and manufacture electronic circuit boards.
Support and train customers running our software, or using our devices
Most of our work involves building products which we then take to market commercially. Occasionally we do custom development, but that is unusual, and is usually as an ancillary for an existing customer. As commercial products the work has to maintain a particularly high standard.
Who We Do It For
Most of our income comes from customers outside of South Africa. Our installed base exceeds several thousand sites, and our code is used in products used by hundreds of thousands of users. We regularly travel abroad to attend conferences, to train users and to do marketing.

Skills in Demand
As we develop a wide range of server and client software, across a broad range of platforms, we necessarily have people with a wide range of skills. Some skills are more in demand, or more urgently required. The current needs are listed below;
Embedded C / Linux programmer
Experience with C programming, especially on Linux. Programming of embedded devices, possibly including PIC processors would be a bonus.
Needs to be comfortable with the Linux command line, Shell scripts, C language and so on.
Windows / Web Programmer
Should have strong programming skills in an imperative language (C, Pascal, Basic, Clarion, Java or whatever) along with reasonable experience with web source code (html, css & JavaScript). jQuery experience would be a bonus.

Technical Support
We have customers for our products around the world, and we believe in top-notch support for those products. This means we need top-notch support people, who have good technical skills, good communication skills and most importantly good problem solving skills. Any experience in the Time ad Attendance industry would be a bonus.
What We Look For
There is no cookie-cutter specific person which we employ. Each person is different and brings different skills, and responsibilities to the team. We don't care about your color, your gender, or your age. We do however care about the following;
Passion:

Life is too short to be doing something you don't enjoy. We want to see the passion you have for creating products and supporting customers.


Creativity:

A lot of what we do is breaking new ground. We're looking for people with the ability to see solutions to problems.


Skill:

We push the boundaries of the possible in all our fields. Thus we need people who are both skilled at what they do, and prepared to learn to do it better.


Training:

We prefer people to be formally trained in their job area. For software programming this means a Computer Science Degree. We have had, and still have, developers without this qualification, so it's not an absolute deal-breaker, but we do prefer it.


Flexibility:

Every company is different, and your previous place of work probably did things differently to the way we do them. While we are ourselves flexible, we don't want people who are unable to adapt to our systems and processes. Flexibility is the root of good teamwork.
Our Work Environment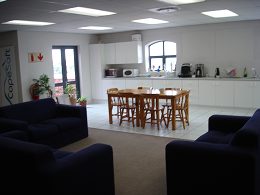 Our primary work-space are our offices in Diep River, which is in the Southern Suburbs of Cape Town, South Africa. If we're going to spend a lot of our lives at work anyway, it may as well be a place we like to go.
Every programmer, and indeed almost all other employees as well, have their own office. We don't have any cubicles.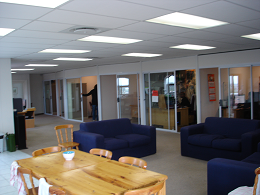 We believe in people having the right equipment to do their job. That means up-to-date computers, with multiple flat-screen monitors, plus any other bits and pieces you need to get the job done. Your environment should not hold you back.

We work hard, but hard work needs a release occasionally. To that end we have a pool table, a table-tennis room, a large kitchen and an open-plan lounge with comfortable sofas.
Contact
If you think you have what it takes to be an integral part of the CapeSoft team then
contact
us.