General Information
Installation & Setup
Pricing, Buying & Downloads
Introduction
CapeSoft Safe Writer is used to encrypt files and in so doing to create a Safe File (having a .SAF extension), which can then be safely distributed with virtually no risk of unwanted users reading the files. A password or key provided by the user is used for the encryption.
Safe Reader
can then be used to open and decrypt the Safe File (providing the user has the correct key).
Feature List
Opens all Safe Files created by CapeSoft Safe Writer.
Allows the simultaneous extraction of all the files, or the extraction of only selected files.
If the file location information was included by Safe Writer when the safe was created, files can be extracted to their original locations.
Individual files may be extracted and run by the click of a button.
Can search CapeSoft's website for a new version every time the program is opened (this can be specified in the Options menu).
Search the CapeSoft Website for a new version at any time by simply choosing an item from the Tools menu.
Why Use File Encryption
To help ensure this, a range of security measures can be applied to contain a diverse range of threats. One such measure is to protect the data from unauthorized disclosure using cryptography (the practice of encrypting/decrypting data using a secret password or key word).
DES file encryption software will enable PC users to protect/encrypt their data/files without specialist knowledge or difficulty. It allows data to be protected almost as routine. So why encrypt your data? Some examples of why are:
Where sensitive data is to be distributed or saved on portable media (e.g. floppy disks, backup drive, etc.)
Where more than one user has access to a PC or where the data is held on a LAN.
As an additional measure where a PC already incorporates an access control mechanism, encryption secures the data itself, that will remain encrypted even if the PC is lost or stolen.
Where information is to be transmitted via email or similar media.
Screen Shot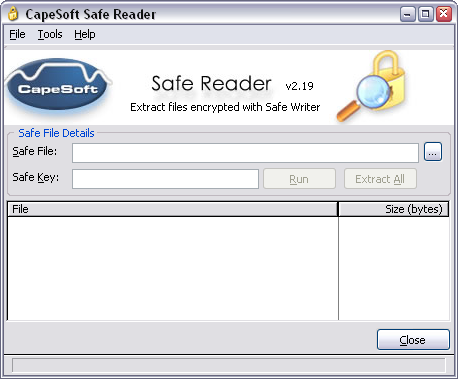 CapeSoft Safe Reader Price
CapeSoft Safe Reader is
FREE!
CapeSoft Support
Email
Telephone
+27 87 828 0123
Fax
+27 21 715 2535
Post
PO Box 511, Plumstead, 7801, Cape Town, South Africa
CapeSoft Sales
Web
www.capesoft.com
Email
Telephone
+27 21 715 4000
Fax
+27 21 715 2535
Post
PO Box 511, Plumstead, 7801, Cape Town, South Africa
License & Copyright
This program is protected by copyright law and international treaties.
License Agreement

CapeSoft Software, employees of CapeSoft Software and Dealers of CapeSoft Software products explicitly accept no liability for any loss or damages which may occur from using this package. This package is used entirely at your own risk.
Use of this package constitutes agreement with this license.
Please contact

should you have any queries.
System Requirements
CapeSoft Safe Reader will operate on the following operating systems:

Windows Server 2008
Windows Vista
Windows XP
Windows 2000 Server
Windows 2000 Professional
Windows NT4 Server & WorkStation
Windows ME
Windows 98
Windows 95

Download CapeSoft Safe Reader
Installation
Once you have downloaded the setup file, please run it and the install program will guide you through the installation steps. For further information please contact
More on CapeSoft Safe Reader
Version History
Version 2.72 (31 May 2011)
Remove password attribute from the Safe Key entry.
Point the XML version download to the correct location ('https://www.capesoft.com/ftp/public/safereader.xml')
Version 2.71 (21 April 2011)
Tweak to SafeUpdate 2 settings.
Version 2.70 (20 April 2011)
Added SafeUpdate 2 to SafeReader.
Upgraded HyperActive, NetTalk, Makeover, AnyFont, ObjectWriter and WinEvent.
Version 2.51 (12 April 2010)


Version 2.50 (29 August 2008)
Update documentation, moved to XHTML 1.0 transitional and CSS 1.0.
Fixed potential GPF when auto-updating.
Small cosmetic changes to the main window.
New installer.
Vista and Windows Server 2008 compatibility/compliance.
New auto-updating, new code signing of installer and for automatic updates.
The file association check has been removed from the application and all file associations are handled by the installer. This is Vista and Windows Server 2008 compliant.
Version 2.19 (20 October 2005)
Can now be run from the command line, with the same sort of syntax as Safe Writer.
Now supports secure updates, thanks to CapeSoft Safe Update.
Added option to turn off caching of the Safe Reader setup file. Useful if you're having trouble getting the correct version from the website.
The list of files in the Safe file is now sorted without case-sensitivity.
The window font can now be changed.
Version 2.18 (17 December 2004)
Fixed bug: List box sometimes showed blank, due to the text being the same colour as the background.
Version 2.17 (5 November 2004)
Bug fix: auto-upgrade now works: Safe Reader didn't shut down properly.
Bug fix: timer showed incorrect duration.
Bug fix: progress bar advanced too quickly.
Version 2.16 (4 November 2004)
Bug fix: extracting more than once in the same session when the file was DES-encrypted didn't work.
Version 2.15 (29 October 2004)
Added support for reading Blowfish-encrypted files as well as CRC-checking.
The file list box now uses the same mouse and key commands as a standard Windows list box.
For those that care, how long the extraction took has been added to the status bar.
Version 2.14 (18 October 2004)
Fixed bug: Did not read earlier SAF files.
Fixed bug: Version auto-update did not work.
Version 2.13 (15 October 2004)
Fixed bug: Caching actually turned off in this version.
Version 2.12 (15 October 2004)
Auto-update on startup is now invisible if no upgrade is necessary.
Fixed bug: Version update turns server caching off for more reliable version checking.
Version 2.11 (15 October 2004)
Fixed bug: Auto-update on startup now functioning.
Fixed bug: Extract to Safe file path did not work.
Version 2.10 (13 October 2004)
Fixed bug: Run button was not disabled when running a file in the safe.
Version number synchronized with Safe Writer.
Version 2.05 (24 December 2003)
Fixed bug: Selecting a Safe file from Windows caused the default extract path to be the last-used path, not the path of the Safe file.
Version 2.04 (22 December 2003)
Safe Reader now available in either French/English or English only.
Added option to allow automatic overwriting of files.
Fixed bug: Extract All followed by Cancel kept the buttons disabled and did not hide the toolbar.
Version 2.03 (21 November 2003)
Added option to make the Safe file folder the default extraction path.
Added further option to make the Safe file folder the default run path.
If there is only one file in the Safe file, the file is automatically selected in the file list.
Version 2.02 (17 November 2003)
Added Extract and Run option when one or more files are selected.
Now supports Window XP Clear Type.
Version 2.01 (11 November 2003)
Added Save As dialog box when extracting a single selected file.
Long file names now don't disappear off the right-hand end of the windows .
Version 2.00 (10 September 2003)
Improved user interface.
Now supports hiding of the safe key .
Window now moveable and sizeable while extraction is taking place.
Fixed all known bugs.
Version 1.0 (24 January 2002)