Description
Safe Writer is used to encrypt files (using either the 168-bit Triple DES or variable key-length Blowfish algorithms) and in so doing to create a Safe File, which can then be safely distributed with virtually no risk of unwanted users reading the files. A password or key provided by the user is used for the encryption.
Safe Reader
can then be used to open and decrypt the Safe File (providing the user has the correct key).
Feature List
Creates safe files containing any number of files encrypted using the Triple DES or Blowfish algorithms.
Allows input of a case sensitive safe key.
Allows you to include the original locations of the files on your machine in the filenames, for later extraction to the same locations.
A simple application that is easy to use.
Encrypt files from the command line (dos) without having to use the Safe Writer user interface.
System Requirements
CapeSoft Safe Writer will operate on the following operating systems:

Windows Vista
Windows XP
Windows 2000 Server
Windows 2000 Professional
Windows NT4 Server & WorkStation
Windows ME
Windows 98
Windows 95

Why Use File Encryption
It is increasingly accepted that the data held and processed on a PC can be of fundamental importance to its user/owner/company. It is therefore reasonable to expect that there is security in place to protect it from others.
To help ensure this, a range of security measures can be applied to contain a diverse range of threats. One such measure is to protect the data from unauthorised disclosure using cryptography (the practice of encrypting/decrypting data using a secret password or key word).
DES file encryption software will enable PC users to protect/encrypt their data/files without specialist knowledge or difficulty. It allows data to be protected almost as routine. So why encrypt your data? Some examples of why are:
Where sensitive data is to be distributed or saved on portable media (e.g. floppy disks, backup drive, etc.)
Where more than one user has access to a PC or where the data is held on a LAN.
As an additional measure where a PC already incorporates an access control mechanism, encryption secures the data itself, that will remain encrypted even if the PC is lost or stolen.
Where information is to be transmitted via email or similar media.
Other things you should know
When registering your software with your ISP, they may not have the SAF file as a registered file type. If asking for the MIME type, then you can specify application/x-compressed, or 'binary' file type. This will enable them to enable the uploading of SAF files to your FTP server.
Screen Shot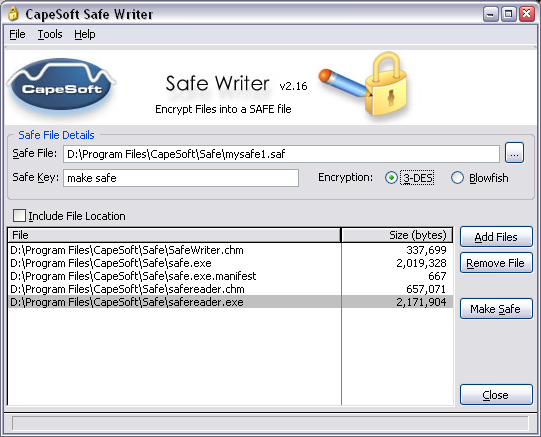 Compatibility and Cost
SafeWriter may be purchased at $39 from:
CapeSoft Sales
Web
www.capesoft.com
Email
Telephone
+27 21 715 4000
Fax
+27 21 715 2535
Post
PO Box 511, Plumstead, 7801, Cape Town, South Africa
CapeSoft Support
Email
Telephone
+27 21 715 4000
Fax
+27 21 715 2535
Post
PO Box 511, Plumstead, 7801, Cape Town, South Africa