Please Note: The Following products are r

equired

for use with SendTo 3:

 StringTheory



Please Note: The Following products are recommended for use with SendTo:



Office Inside, NetTalk, Draw, WinEvent and /or xFiles.

They are

not

included with SendTo.

Introduction
Wouldn't it be nice to be able to export a list or browse straight to Printer, a file (like Excel or Word) or Email it? We as Clarion Programmers are renowned for spending lots of time getting our browses just right - and then adding reports as an after-thought. And so instead of doing the work once, we're effectively doing it many times.
Enter SendTo. SendTo will enable you to send your data exactly as it appears in the browse to Printer, or File (HTML, Excel, Word, CSV, XML, JSON or PDF) or email it directly. Simply drop on the SendTo button on any browse or list in your application, and you have all these options available without having to design extra reports or export procedures -
It literally takes a few seconds to add this amount of functionality to a browse. No more designing reports to match the printout the user requires - simply display the data. What you see is what you will get in the SendTo output. So you can do what you do best - display the correct data and let SendTo do the hard work of getting it out of the List/Browse.
All the formatting, columns widths, column orders, filters and so on are all applied, so the output you get is exactly the same as the browse. And for page-loaded browses the whole record set is loaded, not just the visible rows.
Here's a browse;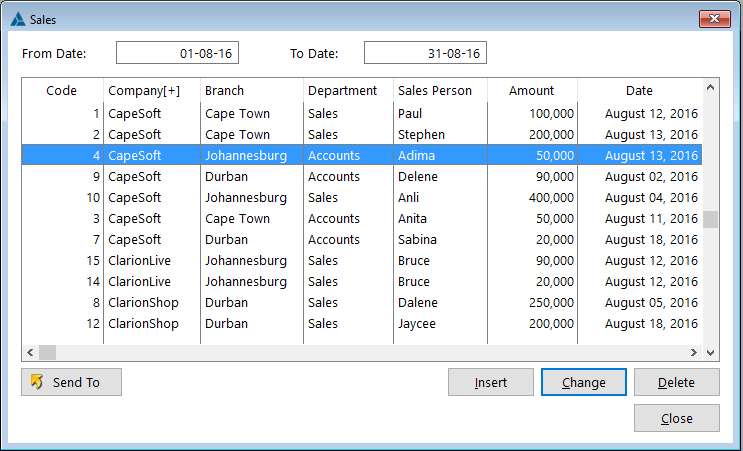 Click on the SendTo button and select your options;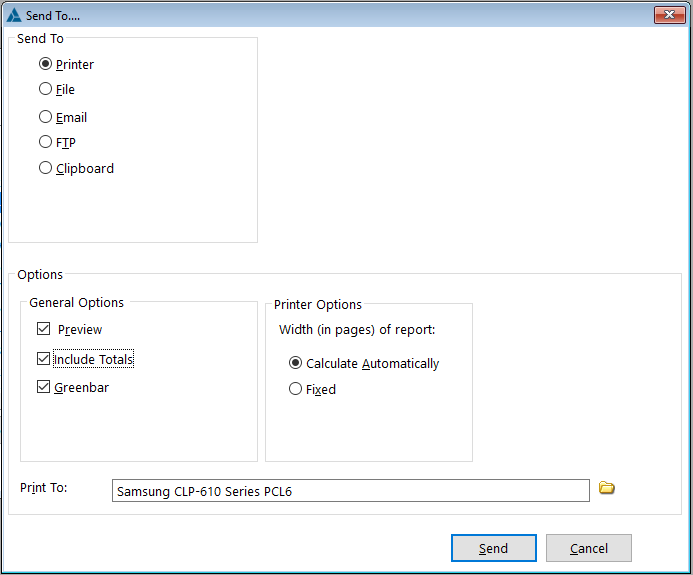 and out pops a complete report.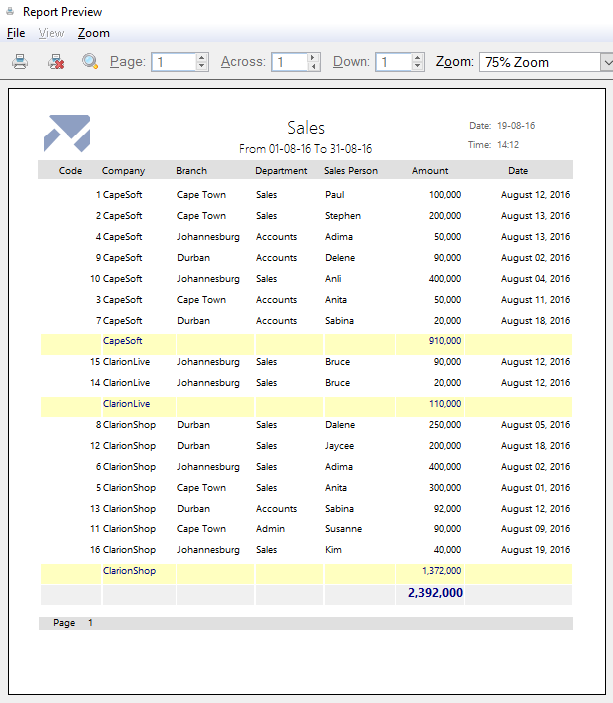 Nothing adds as much bang to your app as SendTo does. But don't take our word for it see some of the
feedback
we've received.
What the Users Say...
Have it! love it!
I got it when Bruce was in Chicago and forgot about it until 6 months ago when I was looking at your web site.
I have now deployed in many places and let the users "do what they want" with the data.
It is absolutely wonderful. - Thanks! Lisa Boes


"Today I installed that and had my first SendTo button operating in less than 20 minutes. Absolutely amazing, considering the functionality." - Nik


"SendTo is one if the most magnificent pieces of programming I've seen in a long time. It's awesome!" - James Fortune


"I _DO_ hope you realize just how utterly  BRILLIANT  SendTo is? I work in the midst of my users at present; it's quite stunning just how much power SendTo gives them, especially for so little effort on my part." - Nick Pattinson


"The number of reports SendTo has saved me from writing has been a godsend. I rate your product as one of the more essential tools. Thank you for a great product." - Adrian


"I was "forced" to purchase OfficeInside in order to have fun with the new SendTo template. Earlier this week I said I was a little disappointed because the template required quite a few other CapeSoft products. After installing SendTo and merging with my existing NetTalk functionality I am overwhelmed.... - Bjarne Havnen


"I just bought the SendTo templates from CapeSoft.15 minutes after ordering I got an email with the key to install. 30 minutes later the first app had been modified ( most of the time was taken by the compiler). I've sent the app to a customer and asked his comments.... 1 hour later he returned an email : 'This is the max, why did it take you so long to make it ???'
Fantastic job from the CapeSoft guys : From zero to customer comments in less than 2 hours
(it combines terrific with the CHT templates for filtering !!!)" - Hans Vinckier


"SendTo is a fantastic tool. At the drop of a control, I can add an output facility to any browse or memory queue. My customers are also very happy with it as it allows then to extract the data to html or Excel or Word etc. with just one button press." - Adrian Hastings
Webinars
A webinar on SendTo 3 was presented on ClarionLive on 19 August 2016. Webinar
#374
.
A webinar on SendTo 2 was presented on ClarionLive on 31 July 2015. Webinar
#324
.
Features
Supports Standard Clarion (ABC and Legacy) Browse Boxes and hand-coded list boxes.
Supports browse totals, and adds support (in the output) for sub totals as well.
Export data to Printer, File, Email, FTP or Clipboard
 Supported file formats include Excel, Word, HTML, CSV, JSON, XML or PDF.
All CSV, HTML, JSON and XML exports are in Unicode by default.
No need to create any reports - SendTo does it all for you.
Added to your application in minutes.
Right Click and select from popup option as well as standard button format.
Let your printer and PDF output span multiple pages (wide) if your list is too wide to print on one page.
Applies Colors and Styles as the data is viewed in the list.
Compatible with all browse tools, including List formatters, Advanced filters, ABE tools and so on.
*
Additional 3rdparty Tools
required for some file formats

*
Clarion Enterprise Edition or Additional 3rdparty Tool required for PDF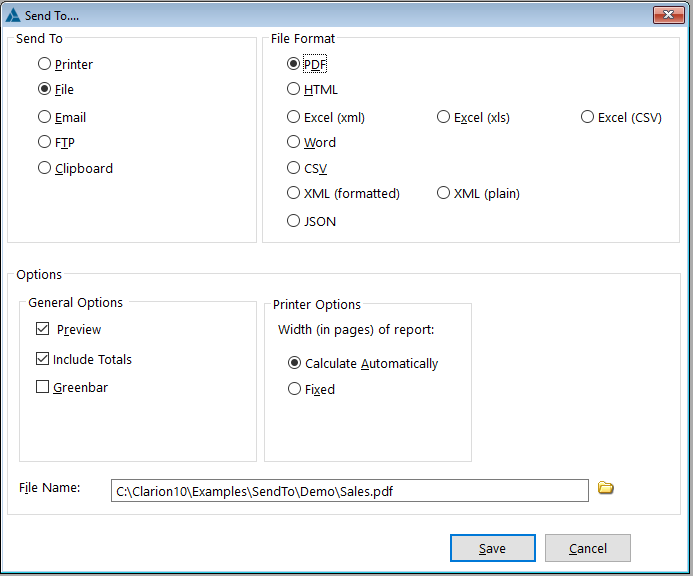 Recommendations and Requirements
StringTheory
StringTheory is required by SendTo 3.
The following products are optional but each contributes to the abilities that SendTo is able to perform.
Draw
Allows Icons to be exported from the browse and appear on some of the output formats (like the printer and PDF).
Office Inside
Allows output to Microsoft Word and Microsoft Excel.
NetTalk (Desktop / Lite or higher)
PProvides the ability to send the file you create via Email or FTP to another person. NetTalk 8 Lite (or higher) or NetTalk 9 Desktop (or higher) are supported.
WinEvent
Allows the output location to be pre-selected from standard Windows directories (Personal and Desktop).
xFiles
Allows output to Microsoft Excel or OpenOffice (via XML)
Compatible With
| | |
| --- | --- |
| Clarion 8 | Yes |
| Clarion 9 / 9.1 | Yes |
| Clarion 10 | Yes |
| Clarion 11 / 11.1 | Yes |
| Clarion Templates | Yes |
| ABC Templates | Yes |
| AnyScreen | Yes |
| Local Mode | Yes |
| DLL Mode | Yes |
| Multi DLL | Yes |
Documentation & Support
Cost
Refund Policy
CapeSoft believes that if you aren't satisfied with our products, we would like them back - and we will refund you the money. This allows you to purchase our products with confidence. You can read our full refund policy
here
.