Introduction
Draw is a replacement for the Clarion drawing commands. It adds a large number of features missing from the Clarion drawing set, and is also quite a lot faster.
Features
New:

Dynamic Headers on windows, just specify the text and let Draw create a drop shadowed header on the window at runtime (see the Docs for more info).
Easily create advanced images uses curves, polygons, shading, and even Pie Slices.
Fast and flicker free
Buffered for near instantaneous refreshes
Complex drawing features, like shaded boxes and cylinders
Save as PNG or BMP
Import BMP files and use them as a "brush" for drawing - including the ability to specify an index transparency color for the bitmap
Vertical Text supported
Layers, alpha channels, index transparency, block copy between layers, share alpha and index transparency between multiple layer and much more!
3D and 2D geometry functions
Large number of graphics functions for creating both simple and complex objects
Auto shaded boxes, cylinders and primitive shapes
Load Windows XP icons, including the alpha channel
Works on windows and reports
High speed 256 color images for reports and sending over networks
Thick lines and styles with all shapes
Screenshot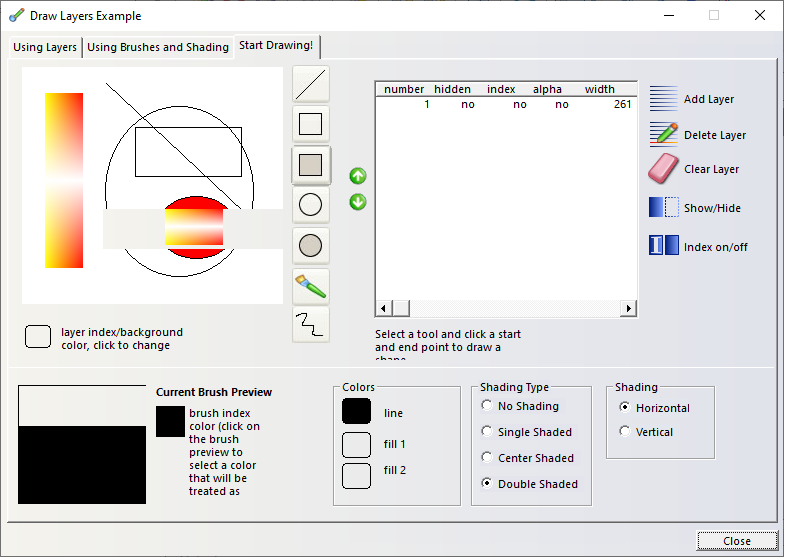 Screenshot of the Draw Heading template: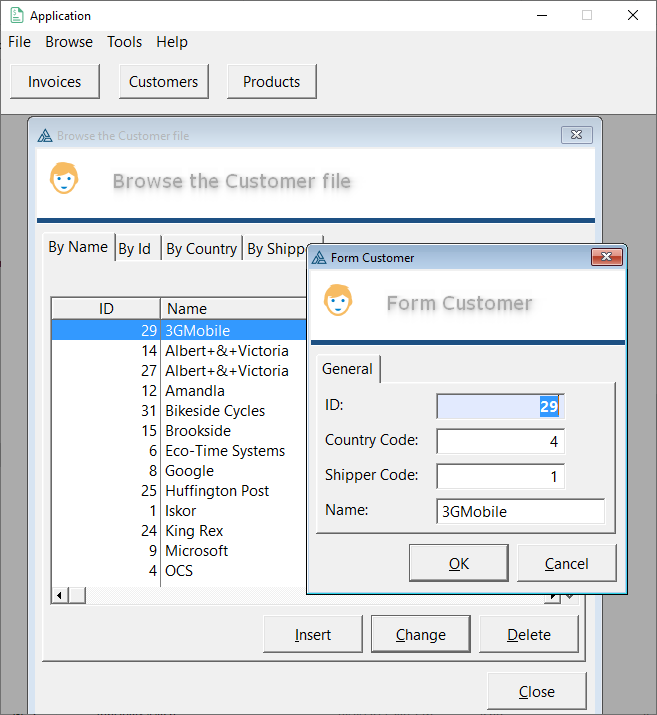 Screenshot of the Draw Gauge template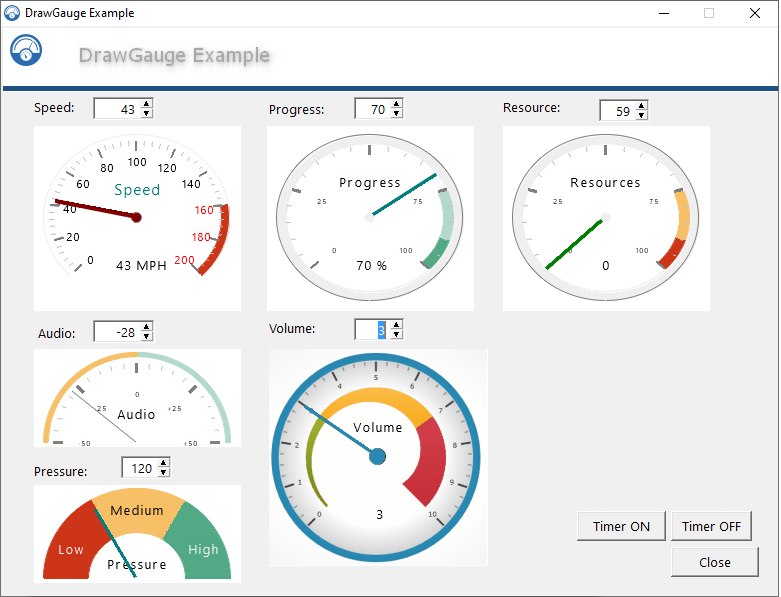 Screenshot of the Drawpaint example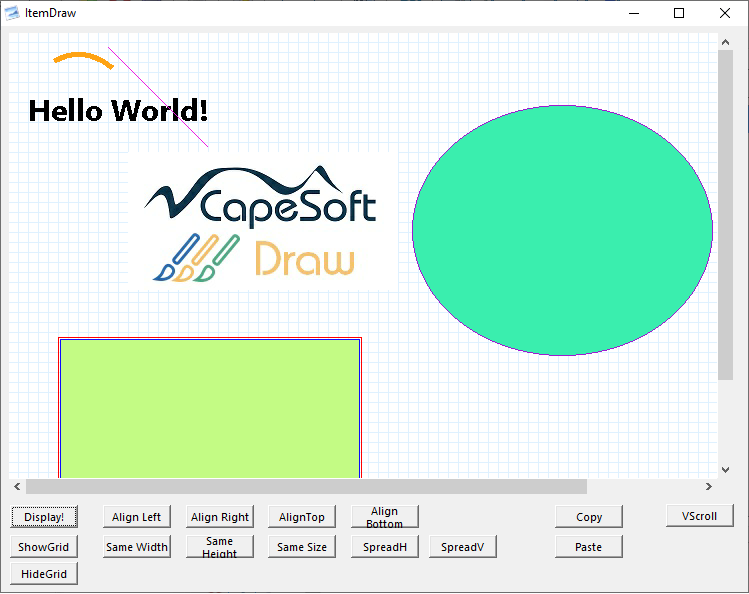 What the Users Say
My co-dev uses Capesoft Draw for drawing inventory, stair and doors. He used to use the standard clarion graphics, but Draw made his drawings look like reality. The best part he thought, was that it was so easy to change from Clarion to Draw. - Bjarne Haven



Let me tell you that I just bought Draw to run the Progress templates but recently I had the need to make some complicated drawing tasks over an app, and I started to use draw stand alone, in a few minutes I had the whole thing complete and real nice! Real cool products each one!!! - Ramón Hernández Domínguez



I was stunned by the functionality provided, especially the 3d-effects. It took 10 minutes to convert a major procedure with tons of calls to LINE, BOX etc., just replacing with Drawer, Line etc. It worked a whole lot better, and there are thousands of ideas for how to use this library... my only complaint now is that it is not enough time to exploit all functionality. - Bjarne Haven



I have worked through all your demos on Draw and I am VERY impressed, to say the least, The mind boggles actually, I will do some good stuff for our customers with this one and enhance the apps to blazes as well. Look forward to this new update for Draw mate. - John Emilson



Draw is matchless, magical, easy to incorporate, and fast. - George Ridell
Compatible With
| | |
| --- | --- |
| Clarion 8 | Yes |
| Clarion 9 / 9.1 | Yes |
| Clarion 10 | Yes |
| Clarion 11 / 11.1 | Yes |
| Clarion Templates | Yes |
| ABC Templates | Yes |
| AnyScreen | Yes |
| Local Mode | Yes |
| DLL Mode | Yes |
| Multi DLL | Yes |
Documentation & Support
Cost
The price of Draw 4 is $149. It is available for purchase from
ClarionShop
.
To upgrade from Draw 3, or earlier the price is $79.  It is available for purchase from
ClarionShop
.
For other payment options please contact us
here
Refund Policy
CapeSoft believes that if you aren't satisfied with our products, we would like them back - and we will refund you the money. This allows you to purchase our products with confidence. You can read our full refund policy
here
.